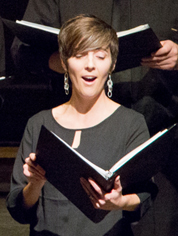 Audition for our 2015-2016 season!
The Oriana Consort seeks new singers in all voice parts to join the group for performances on Dec. 4, 12, and 13 2015 to include R. Vaughan Williams's Fantasia on Christmas Carols, Advent carols by Michael Praetorius, Timothy Takach's Winter Cycle (2015, Boston premiere), and Christoph Graupner's Welcher Glanz erhellt den Dampf (or What Brilliance Lights the Mist)  (1717, Boston premiere). 
The Oriana Consort is an accomplished chorale of approximately 32 voices, with an eclectic repertory, enthusiastic audiences, and a warm, attractive sound. Listen to samples from recent concerts. Soloists are always Oriana members. We seek good-to-excellent readers with clear, center-of-the-pitch voices that work well with the group.
To schedule a half-hour audition between now and Sept. 19, email Walter Chapin at director@orianaconsort.org, summarizing your choral and solo experience. With a quartet of members, you'll to read excerpts from our repertory and sing a brief but difficult choral part that you'll prepare two days in advance. Bring a solo of your choice.