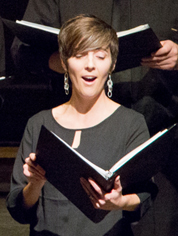 The Oriana Consort seeks 1 soprano, 2 altos, 1 tenor, and 4 basses to fill its 32-voice complement for the 2014-2015 season. Audition appointments are available in July, August, and early September. Rehearsals begin on September 14, 2014, and are held on Sunday evenings from 6-9 in Harvard Square. This fall we will be preparing for three December performances of Britten's Ceremony of Carols, Handel's Chandos Anthem #11, and Christmas works by Rutter, Warlock, Howells, and Rubbra.
The Oriana Consort is an accomplished semi-professional chorale with an eclectic repertory, enthusiastic audiences, and a warm, attractive sound. Listen online to samples from recent concerts. Soloists are always Consort members. We seek good-to-excellent readers with clear, center-of-the-pitch voices that work well with other voices in the group.
To arrange a half-hour audition in July, August, or early September (the sooner the better), please email Walter Chapin at director@orianaconsort.org, summarizing your choral and solo singing experience. For your audition, you will join a quartet of Oriana members to read excerpts from our recent repertory, and to sing a difficult but brief choral part that will be available for advance preparation. Please also bring a solo of your choice.