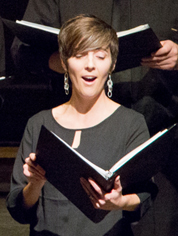 Audition for Spring 2016!
The Oriana Consort seeks tenors and low basses to join the group for performances on March 19, April 3, April 8, and April 10 featuring Vaughan Williams' Mass in G Minor and works by Ola Gjeilo.
The Oriana Consort is an accomplished chorale of approximately 32 voices, with an eclectic repertory, enthusiastic audiences, and a warm, attractive sound. Listen to samples from recent concerts. Soloists are always Oriana members. We seek good-to-excellent readers with clear, center-of-the-pitch voices that work well with the group.
To schedule a half-hour audition, email Walter Chapin at director@orianaconsort.org, summarizing your choral and solo experience. Singing with a quartet of members, you'll read excerpts from our repertory and sing a brief but difficult choral part that you'll prepare two days in advance. Bring a solo of your choice.