Spring 2009
Miracles of Spring:
Music for Easter and Passover from the 16th, 17th, 18th, & 20th centuries
Read reviews of this concert at The Boston Musical Intelligencer and MIT's The Tech.
Program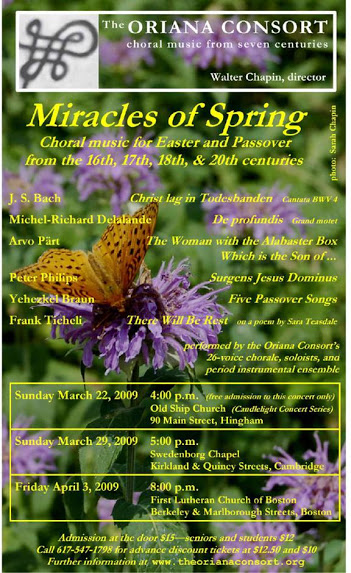 Surgens Jesus Dominus
Peter Philips (1561-1628)
The Woman with the Alabaster Box
Which is the son of...
Arvo Pärt (b. 1935)
Cantata BWV 4:

Christ lag in Todesbanden


with an ensemble of period instruments

Christ lag in Todesbanden
Den Tod niemand zwingen kunnt
Jesus Christus, Gottes Sohn
Es war ein wunderlicher Krieg
Hier ist das rechte Osterlamm
So feiern wir das hohe Fest
Wir essen und leben wohl

Johann Sebastian Bach (1685-1750)

De Profundis


with strings and continuo
Michel Richard de Lalande (1657-1726)
Excerpts from

Fifteen Passover Songs

Ha Lachma Anya
Kol Dikhfin
Betset Yisrael
Karev Yom
Hasal sidur Pesach

Yehezkel Braun (b. 1922)
There will be rest
Frank Ticheli (b. 1958)
Schedule
Sunday, March 22, 2009; 4 pm
Old Ship Church
90 Main St.
Hingham, MA


Sunday, March 29, 2009; 5 pm
Swedenborg Chapel
Quincy & Kirkland St
Cambridge, MA

Friday, April 3, 2009; 8 pm
First Lutheran Church of Boston
Berkeley & Marlborough St
Boston, MA
---
June 2009
In association with the Boston Early Music Festival, we presented the following concert at the First Lutheran Church of Boston on June 13.
Read Walter Chapin's program notes for this concert.
Program
Surgens Jesus Dominus
Ave Verum Corpus
Peter Philips (1561-1628)
Cantata BWV 4:

Christ lag in Todesbanden

Johann Sebastian Bach (1685-1750)

De Profundis

Michel Richard de Lalande (1657-1726)