Spring 2014

Choral Reflections: Human experience, as revealed in polyphonic vocal music from six centuries
Program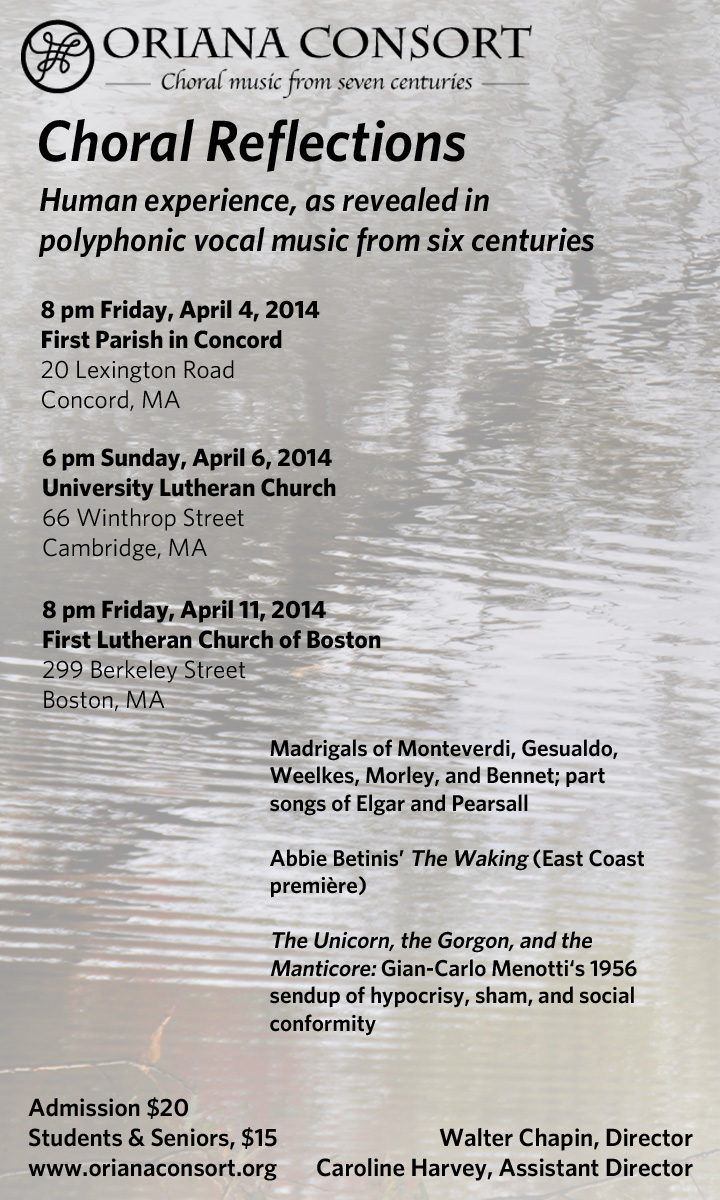 Claudio Monteverdi  (1567-1643)
Luci serene e chiare 
(Calm and clear Eyes)
Io mi son giovinetta
  (I am a young Girl)
Dolente partita
  (Sorrowful Parting)
The lyrics of all three of these madrigals express the simultaneous pleasures and pains of love.  Monteverdi's music, in reflecting the lyrics' every turn of emotion, epitomizes the madrigal style, in which the music continually mirrors the feelings behind the words being sung.
Thomas Morley (1557-1603?)
Arise, awake
Thomas Weelkes (c. 1575-1623)
As Vesta was, from Latmos Hill descending
John Bennet (active 1599-1614)
All Creatures now are merryminded
These madrigals are from The Triumphes of Oriana, a collection of twenty-five madrigals that Thomas Morley published in 1601. Morley asked his composer friends each to contribute a madrigal to it, adding two of his own. He stipulated that the lyrics of every madrigal conclude with the couplet "Then sang the shepherds and nymphs of Diana: Long live fair Oriana". Did "Oriana" represent a real person? Maybe! (And yes, the Oriana Consort takes its name from this madrigal collection.)
Carlo Gesualdo (c. 1560-1613)
Asciugate i begli occhi  (Dry your lovely Eyes)
Moro, lasso (I die, alas)
Gesualdo's use of extreme chromaticism and bold harmonies had no parallel in music until the harmonic experiments of the late nineteenth century, almost three hundred years later.
Robert Lucas Pearsall  (1795-1856)
Great God of Love
The genre known as the "part song" was a specialty of this fascinating yet little-known composer.
Edward Elgar  (1857-1934) There is sweet Music; Lux aeterna
Elgar's part songs, appearing a century after the simple works of Pearsall, were of great complexity and expressive breadth.  There is sweet Music is written in two keys simultaneously!  Lux aeterna was originally Elgar's instrumental Nimrod adagio from his Enigma Variations, and was recently arranged for choral voices by composer John Cameron.

Abbie Betinis (1980-)
The Waking
Oriana is proud to present the East Coast première of this recent work by this remarkable American composer — her compelling setting of a moving poem by Theodore Roethke.
Gian-Carlo Menotti
(1911-2007)
The Unicorn, the Gorgon and the Manticore,
or
The Three Sundays of a Poet
Our program concludes with this work from 1956, composed by Menotti after the "madrigal ballet/fable" style of the early 1600's. It is a delightful sendup of stupidity, hypocrisy, sham, and social conformity.
Schedule
8 pm Friday, April 4, 2014
First Parish in Concord
20 Lexington Road
Concord, MA

6 pm Sunday, April 6, 2014
University Lutheran Church
66 Winthrop Street
Cambridge, MA

8 pm Friday, April 11, 2014


First Lutheran Church of Boston
299 Berkeley Street
Boston, MA