Fall 2015

The Longest Nights: Choral music for the year's end
Read a review of this program at The Boston Musical Intelligencer.
Program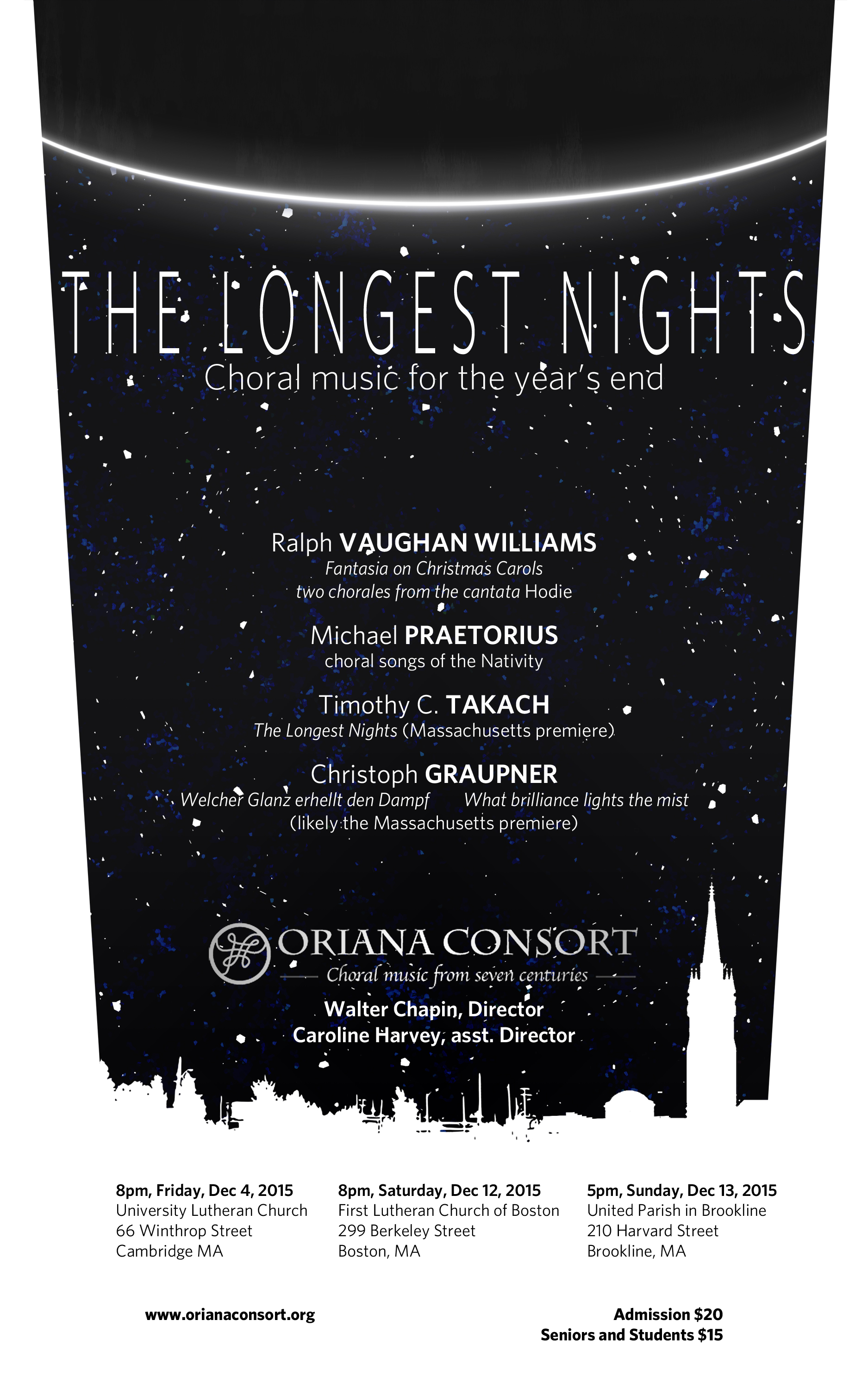 Ralph Vaughan Williams (1872-1958) 
Fantasia on Christmas Carols
Michael Praetorius (1571-1621) 
Choral songs of the Nativity
Timothy C. Takach 
The Longest Nights (Massachusetts premiere)
Christoph Graupner (1683-1760) 
Welcher Glanz erhellt den Dampf What brilliance lights the mist (likely the Massachusetts premier)
---
Vaughan Williams' Fantasia became and remained an immediate favorite when first performed in 1912. The haunting modal melodies of three old English carols are fancifully arranged by this master composer for singers, soloist, and strings. And you'll hear two chorales, later works of Vaughan Williams.
The selections from Praetorius' many Nativity choral songs range from the lively to the contemplative. One of them is Es ist ein Ros entsprungen — better known to English-speaking audiences as Lo, how a rose e'er blooming.
From the upper Midwest comes The Longest Nights, choral settings of seven poems about winter by Timothy C. Takach, who is rapidly gaining national recognition as a composer. Oriana is honored to present the Massachusetts premiere of this remarkable work.
Christoph Graupner, a prolific contemporary of J.S. Bach, wrote some 1418 church cantatas! For over two centuries, legal complications kept his music from becoming widely known. We present what is likely the Massachusetts premiere of the cantata Welcher Glanz erhellt den Dampf, for Oriana's director has transcribed it directly from a facsimile of Graupner's manuscript! A period instrumental ensemble accompanies.
A reception for audience, singers, and players will follow each concert.
Schedule
8 pm Friday, Dec. 4, 2015
University Lutheran Church
66 Winthrop Street
Cambridge, MA


8 pm Saturday, Dec. 12, 2015
First Lutheran Church of Boston
299 Berkeley Street
Boston, MA


5 pm Sunday, Dec. 13, 2015


United Parish in Brookline
210 Harvard Street
Brookline, MA

Sponsors