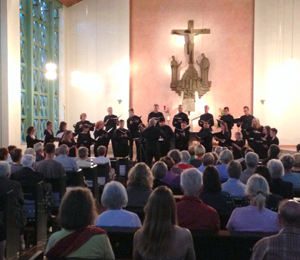 As a not-for-profit organization, the Oriana Consort welcomes contributions of many kinds. Donate directly, become a sponsor, or volunteer to help!
The Oriana Consort traveled to Leipzig and Frankfurt, Germany, in summer 2013.  While there, we had the rare opportunity to perform at Thomaskirche (St. Thomas Church) in Leipzig, the very same church in which Bach served as a Cantor nearly three hundred years ago!  We could use your help to offset the cost of the trip. 
Donations are accepted via PayPal using any major credit card.
Become a sponsor of the Oriana Consort! Advertise in concert programs and on our website. Please contact info@orianaconsort.org for details.