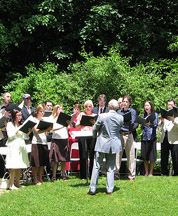 Hire us!
A professional choral ensemble creates a joyous, elegant atmosphere for your special event. Members of the Oriana Consort are available in small ensembles to perform sacred or secular a cappella choral music at your wedding ceremony, memorial service, holdiay gathering, or other event. Voices raised in harmony at your celebration will be extra memorable for your guests, and will leave them deeply moved.
We offer a wide range of styles, including works by popular composers Morten Lauridsen, Eric Whitacre, Randall Thompson, and Frank Ticheli; classical composers J.S. Bach, Mendelssohn, Benjamin Britten, and Samuel Barber; and we would be happy to discuss your special request.
Please contact Caroline Harvey, Assistant Director & Accompanist for the Oriana Consort at hireus@orianaconsort.org to inquire after our availability. Our rates are very affordable and help offset our operating costs. We truly enjoy providing music for your event and consider the experience to be an invaluable reward.
Services available from Consort members
Many of our members are professional musicians. If you are interested in a soloist for your event, please contact them directly at the email addresses provided.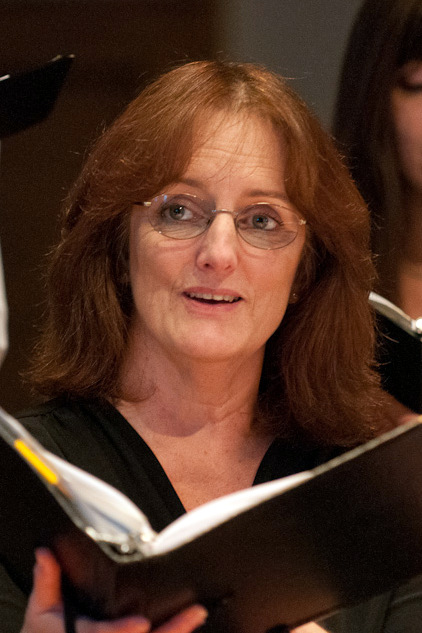 Kathryn Low
photo by Hendrik Broekman
Kathryn Low, soprano
Kathryn Low, soprano, is a frequent soloist and long time member of The Oriana Consort, and was thrilled to join them on their recent trip to Frankfurt and Leipzig, Germany. She has sung with the Back Bay Chorale, Nashoba Valley Chorale, Boston Pops Holiday Chorus, and also sings currently with New World Chorale.
A graduate of Manhattanville College, Purchase, NY, Kathryn sang extensively with the Opera Players there, most notably as Monica in Menotti's The Medium. She has studied with Sofia Steffan, formerly of the New York City Opera, and Charlotte Russell, Indian Hill Music Center.
Kathryn is a past member of the Board of Directors of PALS Children's Chorus, Brookline, MA and a current board member of The Oriana Consort. Kathryn also sings as occasional cantor at St. Anne's Church, Littleton, MA.
Contact Kathryn at kathy@orianaconsort.org