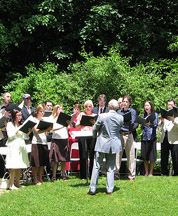 Hire us!
A professional choral ensemble creates a joyous, elegant atmosphere for your special event. Members of the Oriana Consort are available in small ensembles to perform sacred or secular a cappella choral music at your wedding ceremony, memorial service, holdiay gathering, or other event. Voices raised in harmony at your celebration will be extra memorable for your guests, and will leave them deeply moved.
We offer a wide range of styles, including works by popular composers Morten Lauridsen, Eric Whitacre, Randall Thompson, and Frank Ticheli; classical composers J.S. Bach, Mendelssohn, Benjamin Britten, and Samuel Barber; and we would be happy to discuss your special request.
Please contact Caroline Harvey, Assistant Director & Accompanist for the Oriana Consort at hireus@orianaconsort.org to inquire after our availability. Our rates are very affordable and help offset our operating costs. We truly enjoy providing music for your event and consider the experience to be an invaluable reward.
Services available from consort members
Many of our members are professional musicians. If you are interested in a soloist for your event, please contact them directly at the email addresses provided.
Hailey Fuqua
Hailey Fuqua, soprano
A native of Northern Idaho, coloratura soprano Hailey Fuqua holds degrees from the Boston Conservatory with her Bachelor of Music degree in Vocal Performance and Opera, summa cum laude. Specializing in Baroque repertoire, this spring Ms. Fuqua will conclude her Masters of Music in Historical Performance at Boston University this Fall, studying with esteemed conductor Martin Pearlman. She is a student of Aaron Sheehan, and Kathryn Wright; and has been featured in masterclasses with renowned sopranos Christine Brewer, Julianne Baird, Sheri Greenawald, and Inci Bashar.
A member of the Tanglewood Festival Chorus with the Boston Symphony Orchestra, she recently appeared in the chorus of Beethoven Symphony 9 and Simon Boccanegra under the baton of James Levine, and with the Boston Pops winter season. Opera roles include: Queen of the Night in Mozart's Die Zauberflöte with the Bay Area Summer Opera Theater Institute, Rodisette in Der geduldige Socrates at the Amherst Early Music Festiva, Yvette in La Rondine at Boston Conservatory, Turandot's attendant in Harvard University's production of Puccini's Turandot, as well as the roles of the Manon, Donna Anna, Konstanze, and Tatiana in various scene performances.
An up and coming interpreter of the works of J.S. Bach and other early music composers, Ms. Fuqua has been featured as soprano soloist in Vivaldi's "Gloria", Mozart's Choral Festival, where she was featured as the Youth in Elijah.
Contact Hailey at hailey@orianaconsort.org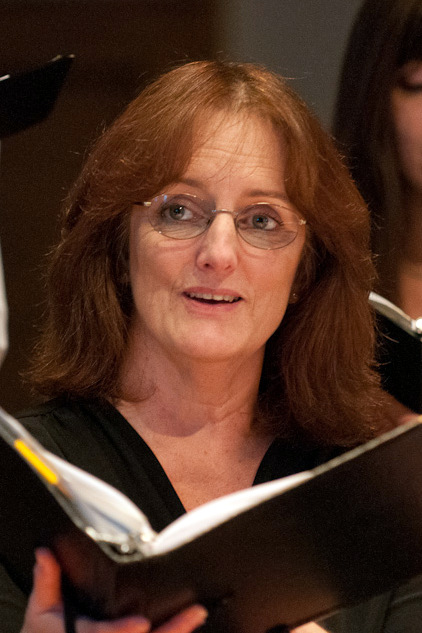 Kathryn Low
photo by Hendrik Broekman
Kathryn Low, soprano
Kathryn Low, soprano, is a frequent soloist and long time member of The Oriana Consort, and was thrilled to join them on their recent trip to Frankfurt and Leipzig, Germany. She has sung with the Back Bay Chorale, Nashoba Valley Chorale, Boston Pops Holiday Chorus, and also sings currently with New World Chorale.
A graduate of Manhattanville College, Purchase, NY, Kathryn sang extensively with the Opera Players there, most notably as Monica in Menotti's The Medium. She has studied with Sofia Steffan, formerly of the New York City Opera, and Charlotte Russell, Indian Hill Music Center.
Kathryn is a past member of the Board of Directors of PALS Children's Chorus, Brookline, MA and a current board member of The Oriana Consort. Kathryn also sings as occasional cantor at St. Anne's Church, Littleton, MA.
Contact Kathryn at kathy@orianaconsort.org
Nate Ramsayer
Nate Ramsayer, tenor
Tenor Nate Ramsayer, a graduate student in Near Eastern and Judaic Studies at Brandeis University, hails from the gorgeous (but cold!) land of northern Minnesota. He holds a B.A. in Religious Studies from the University of Minnesota, with a focus in Hebrew Bible.
As a professional choral singer in Boston, Nate is happy to join the Oriana Consort in Cambridge and is the tenor section leader in the Congregational Church of Needham Chancel Choir. A frequent cantor/soloist at weddings and funerals in the greater Boston area, he also hosts karaoke on the weekends in Danvers, MA and performs one-man shows for area nursing homes. While living in Minneapolis, MN, Nate sang tenor in The Singers: Minnesota Choral Artists for four years, and in other groups such as The Gregorian Singers, From Age to Age, and The Summer Singers, while performing in local churches and various recording projects and recitals.
Contact Nate at nate@orianaconsort.org