Walter Chapin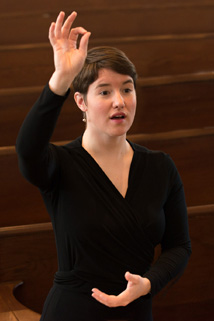 Caroline Harvey
Contact Us
info@orianaconsort.org
339-203-5876

The Oriana Consort
P.O. Box 381608
Cambridge MA 02238

Leadership
Walter Chapin, Director
Walter Chapin, the Oriana Consort's founder and Director, has degrees in music from Harvard and the New England Conservatory. He has directed amateur choral groups in the Boston suburbs, and has taught conducting and directed choruses at Boston University and at the high school level. As a pianist, he accompanies at the Jose Mateo Ballet Theatre in Cambridge. In his other-than-musical life he is a computer information systems designer and programmer, husband, father, grandfather, and carpenter. Contact Walter at director@orianaconsort.org.
Caroline Harvey, Assistant Director & Accompanist
Caroline Harvey is a native of Iowa. She earned a Bachelor of Music in Piano Performance from Valparaiso University and a Master of Music in Collaborative Piano from the Longy School of Music of Bard College, and pursued graduate studies at Florida State University, where she worked with the Florida State Opera.  She is an active pianist and vocal coach; she is a staff accompanist for the Boston Children's Chorus; and she regularly accompanies voice lessons in the Cambridge studio of Emily Romney. She joined the Oriana Consort in the spring of 2009, and was named Assistant Director in the fall of 2010. Contact Caroline at caroline@orianaconsort.org.
Board of Directors
Melanie Armstrong, Beth Chapin, Robert S. Gulick, Caroline Harvey, Kathryn Low, Christopher Pitt
Singers
Laura Amweg, Melanie Armstrong, J. William Budding, Richard Chonak, Alex Conway, John T. Crawford, Katheryn Currie, Anand Dharan, Robert Flynn, Laura Frye, Adrienne Fuller, Gary Gengo, Caroline Harvey, Kristina Jackson, Paulina Jones-Torregrosa, Frank S. Li, Kathryn Low, Ashley Mac, Dennis O'Brien, Tami Papagiannopoulos, Anupama Pattabiraman, Christopher Pitt, Margaret Ronna, Irl Smith, Joshua Smith, Lauren Syer, James Tresner, Tyler Turner, Nic Tuttle, Matthew Wall, Sarah Zenir
Non-Profit Status
The Oriana Consort is a non-profit corporation in the Commonwealth of Massachusetts and a 501(c)(3) non-profit corporation under Federal IRS law. The group is funded by individual tax-deductible contributions and concert receipts.
The Oriana Consort Logo

The image in the Oriana Consort Logo is based upon the concluding flourish in the signature of Queen Elizabeth I of England, to whom Thomas Morley, in 1601, dedicated his madrigal collection The Triumphes of Oriana.
History of the Oriana Consort
The Oriana Consort was founded not at a single point in time, but evolved from several amateur choral groups that Walter Chapin directed in the 1970s and 1980s. About a dozen years ago the ensemble settled into something like its present form: an a cappella chorale of thirty singers, more or less — auditioned to very high standards — who rehearse and perform (usually) without accompaniment, tuning only to their own voices. The group's size is intimate enough for madrigals and motets, yet large enough for demanding choral works such as Samuel Barber's Agnus Dei, J.S. Bach's double-chorus motets, Aaron Copland's In the Beginning, Gabriel Faure's Requiem, Bach's Magnificat, Bob Chilcott's double-chorus Advent Antiphons, and Eric Whitacre's eight-part Lux Aurumque.
The name "Oriana Consort" is curious: the group is not really a consort, but a chorale. It acquired its name during an earlier incarnation when it was a much smaller ensemble that actually was a consort of voices and Renaissance-era instruments, and the name stuck.
Oriana prepares two programs each year and presents them in Cambridge, Boston, and a suburb. The group's eclectic repertory is drawn from the fifteenth through the twenty-first centuries — the seven centuries that stretch from the early Renaissance to the present. Music of the Baroque or the early Classical era, accompanied by instrumentalists from greater Boston's early music community, usually forms a significant part of each program.
Oriana has also performed on invitation: the group has participated four times in the Candlelight Concert Series of Old Ship Church in Hingham; twice in the "3rd Sundays @ 3" concert series sponsored by the Waltham Philharmonic Orchestra; the Vanderkay Summer Concert Series of Blue Hill, Maine; the concert series at The Center for Arts in Natick; the Vox Humana series of Jamaica Plain; and the Lux Aeterna multi-chorus concert held in Boston in January of 2005 to benefit survivors of the tsunami in Southeast Asia.
In March of 2007 the Consort was one of four Boston-area chorales to participate in a master class presented by Peter Phillips, director of the world-renowned Tallis Scholars.
Oriana has participated several times in the Fringe Concert Series of the Boston Early Music Festival, and was the opera chorus for "Italian Night at the Opera", the gala concert presented in May of 2011 by the Waltham Philharmonic.
In late July and early August of 2013 the Oriana Consort did a four-concert tour to Germany, presenting music in Frankfurt am Main, Dietzenbach, and Leipzig. In the Thomaskirche in Leipzig — where J.S. Bach was Cantor from 1723 to 1750 — the Consort surrounded Bach's tomb to sing two of his motets, and was the choir for a Sunday service there, singing choral music of Bach, Mendelssohn, Barber, and Bernstein.
Walter Chapin